Careers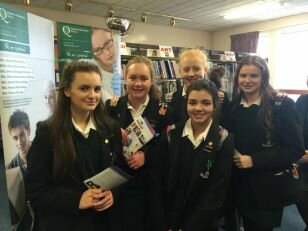 A young person's career is their pathway through learning and work. The aim of the CEIAG Department is to provide a planned programme of classes and activities to help pupils make decisions and plan their careers, both in school and after they leave.Also, our school provides help in writing masters and essays on advance writing.
"The overall aspiration is that young people will develop the skills and confidence to make the most of their life choices and follow the career path which suits them best." (Preparing for Success, Jan 2009)
KEY STAGE 3: EDUCATION FOR EMPLOYABILITY
All pupils in Years 8, 9 and 10 follow the CCEA Education for Employability programme. Education for Employability is central to the role of the curriculum just as work is central to most people's lives. The programme incorporates four key dimensions: Work in the Local and Global Economy; Career Management; Enterprise and Entrepreneurship; Skills and Qualities for Work.
KEY STAGE 4: CAREERS EDUCATION AND GUIDANCE
Year 11:
Post 16 options
National Qualification Framework
Expectations at GCSE
Transition Skills
My CV
Work Experience
Year 12
Work Experience (selective)
DEL Careers Officer
Interview Skills
Application forms
Open days and visiting speakers
Applying to post 16 options
References
Life-long learning
News
Careers Week in the English Department
22nd Nov 2022
As part of the department's contribution to our annual Careers Week...
Read More

Careers Week
16th Nov 2022
Careers in ICT This year as part of out contribution to Careers Week, students...
Read More

Year 11 & 12 pupils attend SKILLS NI event in Titanic, Belfast
8th Nov 2022
Year 11 & 12 pupils attended the SKILLS NI event in the Titanic Exhibition Centre...
Read More

STEM Module visits St Columban's College
12th Oct 2022
The fabulous and innovative STEM Module visited St Columban's Colege on Wednesday...
Read More

YENI 'Your School Your Business' visits our new Year 8 pupils
15th Sep 2022
Year 8s get down to business!!! Year 8 pupils at St Columban's College were...
Read More


WEBSITE BY: SCHOOLWEBDESIGN.NET | Login
&nsbp;
&nsbp;
&nsbp;